This strategy is great for people who are looking for a long-term client or company that they can build a relationship with. It's also great for people who have some experience in the industry and want to find clients that they share a similar style with.
The second strategy is to find clients offline at networking events or conferences. This strategy is great for people who are new to the industry and want to get their foot in the door with some low-risk work or people who have been in the industry for a while and just want to meet new people because it's hard to do so online these days without being bombarded by email requests from strangers.
There are many strategies that can be used to find clients on yelp. One of the most common strategies is to use yelp's "nearby" tab and search for clients in a given radius. This strategy is especially useful when you have to find a client in your local area. For example, If you find the contact number or other details of plumbers in the area of San Francisco, you can simply search as follow:
Another strategy is to search for clients who have recently made a review or received an update from their business page. You can also look for businesses that are similar to yours, or ones that offer similar services as yours. In this way, you will be able to see if there are any new reviews or updates from your competitors.
Another strategy is to use yelp's "Favorites" tab, which allows users to save businesses they like in their favorites list so they can easily find them later on when they need them again.
Find Clients on Craigslist.org
Another strategy is to use the "search" tab and type in keywords related to your field of expertise. You can also search for relevant keywords and phrases by using the "advanced search" tab. This will allow you to filter down your results by location, keyword, or proximity.
The best way to find clients on craigslist is to search for what you are looking for in the 'jobs' section. This will allow you to search through all of the postings in the 'jobs' section and filter them by your desired criteria. If you are looking for a client who needs specific services, then it would be best to post an ad in the 'services wanted' section. This will allow you to post your services and advertise them specifically.

Step 1: Select the particular location in which you find the job.
Step 2: Select the job category in which you have a profession. You'll find a list of the latest job.
Step 3: After click on your relevent job, you can find a pop up box, where you can copy the link to send a mail of your proposal.
Note: After sending a mail, your proposal is automatically send to the client and he send mail a mail to you if he/she interested.
Craigslist is a classifieds site that is used to find jobs, housing, and products. Craigslist also has a section for finding clients for freelance work.
The strategy to find clients on etsy.com is to create a shop and start a conversation with them. The key to success is to be able to create a conversation that will make the potential client want to buy from you.
People are more likely to buy from brands they trust, So we can target those clients who sell their products on esty.com. To help you get started, we've put together a list of tips for finding clients on Etsy.
Step 1: Open any product description after signing in to the account.
Step 2: Click on "Brand" and find the details of the brand.
Step 3: Copy the brand name and paste it on Google.
Step 4: Find the contact details of the brand and send your proposal.
LinkedIn is a social networking website that connects professionals in various industries and job fields. It is one of the most popular professional networks with over 500 million members worldwide.
LinkedIn has a huge database of professionals and companies, so it is easy to find potential clients to reach out to. The first step in finding clients on linkedin is to create a profile and connect with people who have similar skills or work experience as you. This will allow you to find your target audience, generate leads, and build relationships with potential clients.
Here are some tips to help you find high-paying clients online:
Network: Utilize your existing network and connections, including social media, professional organizations, and industry events, to expand your reach and find new clients.

Specialize: Consider focusing on a specific niche or industry where you can offer specialized knowledge and services, which can attract high-paying clients.

Build a strong online presence: Having a professional website, a well-optimized LinkedIn profile, and an active presence on relevant social media platforms can help you attract potential clients.

Offer unique and valuable services: High-paying clients are often looking for unique and valuable solutions. Make sure you understand their needs and offer customized services that will meet their specific requirements.

Leverage content marketing: Create and share high-quality, relevant content on your website and social media channels to establish yourself as an expert in your field and attract potential clients.

Target your marketing efforts: Identify potential high-paying clients and target your marketing efforts towards them. This could involve direct outreach or advertising on relevant websites and platforms.

Showcase your portfolio: Create a portfolio of your work and showcase it on your website, LinkedIn profile, and other relevant platforms to demonstrate your expertise and attract high-paying clients.

Offer a free trial or consultation: High-paying clients are often hesitant to commit without trying your services first. Offering a free trial or consultation can help them see the value you offer and make a decision to work with you.

Focus on building relationships: High-paying clients are more likely to work with someone they trust and have a relationship with. Focus on building strong relationships with potential clients through regular communication and providing excellent customer service.
If you want to build a successful business, then finding customers is one of the most important tasks that you need to do. And if you want your customers to be happy with your product or service, then finding them through search engines is something that should not be overlooked. These four strategies for getting clients online are very effective and result oriented.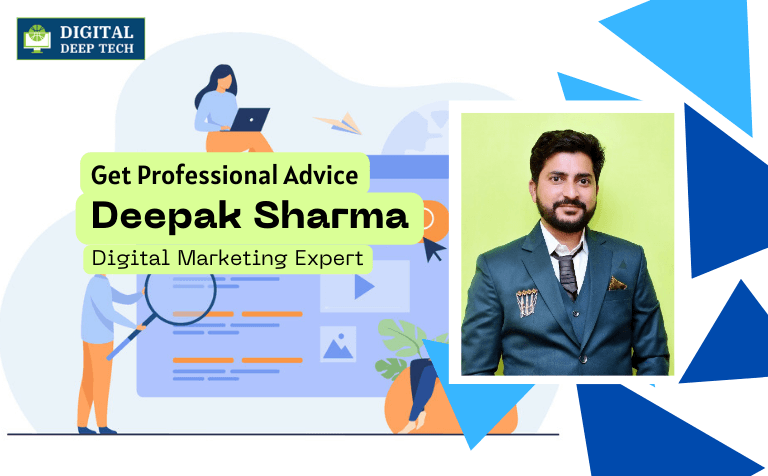 Finding high-paying clients requires a combination of networking, building a strong online presence, offering unique and valuable services, and focusing on building relationships. By following these tips and consistently working to improve your offerings and reach, you can attract and retain high-paying clients online. Digital Deep Tech helps their clients to get their potential online presence which helps one to easily find them online on all these platforms. Contact us now to hire dedicated SEO expert.